Why Rainwater??
Reducing water bills
Average family home consumption data & graphs
How much you can expect to harvest
Nature gives us our rainwater for free and once you have installed an efficient, rain harvesting system you use less mains water and can reduce your water bills.
Australians have used rainwater as one of their sources of water for all requirements - drinking, cooking, showering, laundry, toilet flushing through to watering the garden and now with evidence of our diminishing water supply it is more urgent than ever to have your personal safe and sustainable water supply.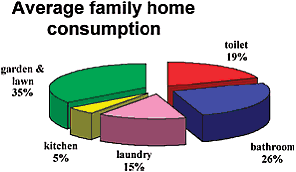 Average Household Water Usage
Garden 30- 50% - (depends on size of garden and local water restrictions)
Toilet 8 - 19% - (depends on single or dual flush toilets)
Hot water 20 - 35% - (depends on washing clothes in hot water and shower times)
Laundry 10 - 20%
Shower / Bathroom 15 - 30%
Kitchen 5% - 75,000 up to 150,000 ltrs water consumption per person per year

Rainwater - The Untapped Potential
The average household has the potential to harvest 60,000 litres (60kl) of rainwater annually* - based on conservative data!
* (based on 120m2 roof area, 600mm rainfall a year with 90% co-efficient)
Currently only around 21 per cent of Australian households (1,550,000+ households) have a rainwater tank installed.
There is obviously, therefore, enormous scope to increase water tank usage in the cities and suburbs to supplement the mains water supply.
In simple terms, 1 square metre of roof x 1mm of rainfall will collect 1 litre of water.
By using rainwater instead of mains water for garden and outdoor use, toilet flushing and laundry (washing machine use) we can reduce our dependence on mains drinking water consumption by up to 70 per cent.